Careers
Intent:  To develop responsible, respectful and confident individuals who will provide a positive contribution to society in life after Grace Academy Solihull. Our careers curriculum exposes learners to local, national and global markets, and meaningful encounters that build employability skills to aid successful transitions into positive destinations.
Grace Academy Solihull Aims:
Throughout student's time at GAS, they will receive a range of workshops and experiences to support them in making important decisions about their future and next steps, whether it be further education at Post 16 GAS or college, apprenticeships and training, university or employment.
The Careers Information Education Advice and guidance will begin in year 7 and supports students through to year 11 and 13 when they leave Grace Academy Solihull. Our students will take part in 1:1 or group interventions and will receive career interviews from a careers advisor, learn how to create an employable CV, visit universities, gain support with apprenticeship choices, broaden their knowledge on UCAS applications and participate in business run assessment days. Grace Academy Solihull also works very closely with START, an online career platform. Students can explore their future careers and education options within school or at home with their personal logins. Our programme is designed to enable young people to make excellent choices about their futures and inspire them throughout their time at Grace Academy Solihull. Our stable career provision links well to the Gatsby Benchmarks and we aim to address the needs of each student through the personal profiles.
The Career Lead for GAS:
Mrs Louise Knight – Head of Year 11
Email: louiseknight@graceacademy.org.uk  
Telehone: 01213294600
ALT link – Mrs Kelly Williams
Email: kellywilliams@graceacademy.org.uk
Governor link – Mr Grant Kearns
Email: grantkearns@graceacademy.org.uk
Student Entitlement:
All students in years 7-13 at Grace Academy Solihull are entitled to:
Find out about technical education qualifications and apprenticeship opportunities, as part of our careers programme which provides information on a range of education and training options available at each transition point.

Hear from a range of local providers about the opportunities they offer, including education and apprenticeships.

Understand how to make applications for a full range of academic and technical courses.
Opportunities and Action Plan:
A number of events, integrated into our careers programme, will offer providers an opportunity to come into school and speak to students and/or their parents/carers:
Vision
All students at Grace Academy Solihull will experience an outstanding careers programme which is differentiated to meet the needs of all of our students.  Our careers programme will ensure students will be equipped with the skills, confidence and knowledge to prepare them for life after Grace Academy.  They are encouraged to aspire for success and aim for excellence and to achieve their full potential and will leave the academy with a clear direction of their career plan.
Please see our Careers Curriculum Map by clicking the link below.
Help your child explore their future career and education options at home by encouraging them to use Start – a fantastic online careers learning resource. Start is accessible anytime on computers and compatible mobile and tablet devices, and is designed to enable young people to make excellent choices about their futures.
Enterprise Advisor – Jennifer Bryan NSL services
Jennifer has been our Enterprise Advisor since 2018 and has worked closely with Grace Academy Solihull and the Solihull Careers Hub through events as well as delivering career and workplace workshops to different cohorts of students. Jennifer's current position is Client Account Manager for NSL Solihull where she has been for 12 years and has carried out the same responsibilities at Birmingham Council too. She currently manages a team of 30 officers delivering parking enforcements, car park management, environmental enforcement and abandoned vehicles across Solihull borough.
START Careers online platform
Help your child explore their future career and education options at home by encouraging them to use Start – a fantastic online careers learning resource. Start is accessible anytime on computers and compatible mobile and tablet devices, and is designed to enable young people to make excellent choices about their futures
Start allows young people to:
• Find jobs that match their skills, qualities, interests and work preferences
• Understand what different careers are like, including earning potential and the qualifications required
• Search live local Apprenticeship opportunities matched to their areas of interest
• See which businesses are recruiting in your area to understand local employment demand when making decisions about careers
A Guide to using Start can be found in the links below
Inspiring Students To Create Their Own Vision Of Success
We don't believe careers guidance starts and finishes with a one-off interview in the careers office, it is ongoing and U‑Explore/Start is there for the whole journey.
Introductory videos about Start are below:
Gatsby Benchmarks
The Gatsby Benchmarks are a framework of eight guidelines that define the best careers provision in schools and colleges. We have built Grace Academy Solihull Careers Strategy around the eight Benchmarks.
Our careers provision measures it's impact and outcomes by meeting the Gatsby Benchmarks set out by the Department for Education along with destinations.
Our strategy outlines our whole school approach to delivering Careers guidance to all of our learners throughout their journey through education.
Careers activities will take place across Y7 through to Y13.
1
  A stable careers programme
Achieved 100% July 2021
2
Learning from career and labour market information
Achieved 100% July 2021
3
Addressing the needs of each pupil
Achieved 100% July 2021
4
Linking curriculum learning to careers
Achieved 100% July 2021
5
Encounters with employers and employees
Achieved 100% July 2021
6
Experiences of workplaces
Achieved 50% July 2021
(BM6 would have been 100% achieved during 2020/21 but Covid restrictions has unfortunately impacted on this)
7
Encounters with further and higher education
Achieved 100% July 2021
8
Personal guidance
Achieved 100% July 2021
Start mapped to the Gatsby benchmarks
How START is linked to the GATSBY Career Benchmarks
Destinations
Each year we have 98-100% of year 11 students securing their chosen destination before leaving Grace Academy Solihull, this includes all SEN, LAC and PP cohorts. Year on year figures are consistent for sustained education with around 30% of students progressing onto school sixth forms/other sixth forms and between 55-60% of students progressing onto college courses.
We have a small number of students progressing onto apprenticeships/further training.
100% of Year 13 students secure their destinations before leaving GAS Post 16, progressing onto University, employment or further Education/training.
Not Registered?
If you or your child have not already registered, go to https://careers.startprofile.com/identity/Login
Using Start – Letter to Parents Carers
For more information on Start or the careers guidance in place at Grace Academy Solihull, please contact: neilstoddart@graceacademy.org.uk or visit https://careers.startprofile.com/page/parents
IMPORTANT
If you forget your password Please contact: neilstoddart@graceacademy.org.uk or louiseknight@graceacademy.org.uk Please DO NOT register an extra account.
Learning from career and labour market information
Job profiles – information and data (e.g. salaries, entry requirements, common tasks etc) from LMI for All
Job suggestions – link student interests, strengths and subjects to jobs using data from O*NET
Job vacancies – live vacancy information with an intuitive search function is provided through an integration with Indeed
Apprenticeships – apprenticeship information and links to search and apply come direct from the government's Apprenticeships website
Industry profiles – content from industry bodies, employer partners, Local Enterprise Partnerships and Careers Hubs
Post 16 & 18 course information – live course information is fed by the government's ESFA course directory and we link to search and apply with UCAS
START online platform LMI tasks covered in tutor sessions; what jobs do people near you do, explore industries in the local area and in England, what local jobs are in demand, Apprenticeships, company cultures.
Grace Academy Solihull Careers Advisor
U-Explore/Start also provide Grace Academy Solihull with a fully qualified, independent and impartial Careers Advisor.
One to one and group guidance

Help with sixth form/college/apprenticeship/UCAS applications

Help securing and making the most of work experience

Providing alternative options to University

Helping students prepare for the world of work (CVs, interviews, making a good impression in the workplace
Skills Builder Hub
Tutor sessions and PSHE Lessons will utilise resources from the skills builder hub to provide education for students to build on the 8 essential employability skills; Teamwork, Speaking, Listening, Leadership, Creativity, Aiming High, Problem Solving and Staying Positive. Challenge days will also be introduced into the curriculum during 2021/22.
Through our partnership with Skills Builder in 2019-2021, despite covid restrictions and remote learning, we have continued to be successful in achieving the Bronze Skills Builder Award.
Case Studies
Employer encounter case studies:
Morgan Sindall STEM workshop:
On Friday 16 July we were fortunate to have 3 experienced engineers from Morgan Sindall come into school to work with a selected group of Year 9 pupils who expressed an interest in pursuing a career in
engineering. The day consisted of an introduction to engineering, myth buster conversations, as well as CV and interview skills & team building workshops.
The pupils illustrated a number of key skills including
leadership, listening and teamwork, whilst working together to solve engineering myths and build a paper bridge to see whose would hold the most weight for the longest time. The day was a huge success with both the pupils and engineers: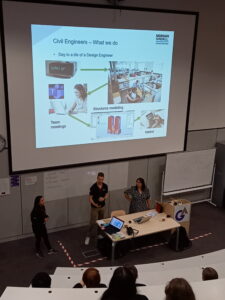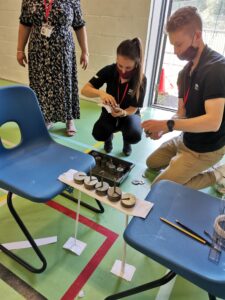 Student Quotes from the day include:
"It has been a really fun day, wouldn't change any of it."
"I like the fact that the workshops are hands-on."
"Good day – enjoyed learning about the different types of
engineering and the problem solving tasks."
"Good as I found it interesting seeing what the engineers have built."
"I enjoyed the team work."
Princess Diana workshop
Year 12 students have completed the 12-week mentoring programme where they have participated in a range of different workshops for businesses,.
skills and experiences to help prepare them for future careers or university.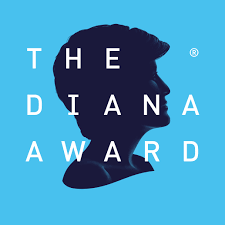 Careers review:
Our careers provision is reviewed annually by the careers team and the next review will be July 2022.