Uniform
We are very clear about our uniform expectation here at Grace Academy Solihull as our uniform is central to what we do, by adding to the positive learning environment within the academy as well as reflecting the values that we stand for.
Our Academy uniform is worn by all students at all times as it fulfils three important functions:
It gives the Academy a clear identity
It represents a simple but effective statement of our pride and sense of community
It also avoids any stigma or competition between individuals that can occur all too easily because of designer clothes and fashion trends
Our uniform consists of the following items:
Grace Academy Solihull blazer*
Plain black knee length skirt or plain black school trousers (not tight fitting)
Plain white cotton shirt/blouse with a button collar
Plain black V-neck pullover or cardigan
Academy tie* (style dependant on Key Stage of student)
Plain black school shoes
Plain black socks, or plain black tights
Winter coats or anoraks, plain in colour (no outerwear Inc. gloves/scarves to be worn inside the Academy)
Optional, additional items
Headscarves
Black school approved headscarf conforming to the requirements below:
The fabric should be lightweight and plain
The headscarf must be folded under the chin, taken round to the back of the neck and the ends tucked in. This conforms to the health and safety, and school requirements
The headscarf must be worn so that the collar and tie can be seen clearly. The reason for wearing the headscarf is to preserve modesty. Therefore, it should not be worn with headbands, brooches, shadow stripes, patterns, logos, embellishments, diamantes, tassels or other embellishments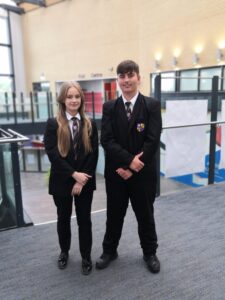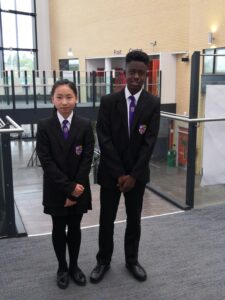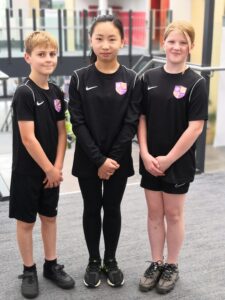 The PE kit is as follows:
Mandatory:               
Academy personalised Nike training tee*
Black shorts/ black cycling shorts
Black sports skirt (for girls' team sports)
Black sports socks/ white ankle socks
Non-marking sports shoes
Optional:
Black personalised long sleeve Nike crew top*
Black Nike sports leggings*
Black Nike shorts*
Black Nike socks
*items must be purchased from our recommended school supplier Mansuri Schoolwear.
Additional Uniform Information
Trousers:

Must not look like leggings, be skin tight or made of stretchy lycra material
School trousers must be loose enough not to cling to the leg
Some fashion stores such as New Look and Select class skin tight trousers as school trousers but these are not acceptable – suitable school trousers can be found in stores such as Primark and Asda
Examples of girl's trousers are shown below.





Skirts:

Must be knee length no shorter and not made of stretchy lycra type material that rides up when students are walking
Suitable school skirts can be found easily in stores such as Asda and Primark and also from our recommended uniform supplier Mansuri Schoolwear




Footwear:

Leather and/or canvas footwear made by sports brands such as Nike, Converse, Adidas and Vans may be branded in shops as 'shoes' but at Grace Academy Solihull they are classed as trainers and as such are not allowed in school
In the bad weather students may wear trainers or boots to walk to school but they must change into their school shoes as soon as they arrive at the academy
Sandals are not allowed in school, even in hot weather, because of the health and safety risks
Jewellery:
One small plain, gold or silver single stud allowed in each ear lobe. No piercings allowed anywhere else on the ear
Bracelets are NOT allowed
No additional piercings anywhere on face or body including tongue.
Hair:

Must be a natural colour, no extreme styles, spikes, patterns or shaved areas
Make up:

Must not be excessive such as bold lipsticks or heavy black or other colour eyeliner
False nails, nail extensions or false eyelashes are NOT allowed
School bag to be used at all times
No chewing gum allowed on site
Our Post 16 students are given more freedom to express themselves through choosing their own attire for the majority of the week, with smart business dress is required on a Friday. This supports the transition into the working world where they will be expected to dress appropriately for their work environment.
We appreciate that every family's personal circumstances may not be the same, so we have worked very hard to ensure our uniform is affordable for all by reducing the number of mandatory branded items, which includes the blazer, tie and sports training tee.
Buying Uniforms
Official Grace Academy Solihull uniform items can be purchased from our recommended local school uniform supplier Mansuri Schoolwear.For a full list of prices please contact Mansuri via telephone or email or visit their website.

Address: 163 Yew Tree Lane, Birmingham B26 1AY
Tel: 0121 784 4230
Email: sales@mansuri.co.uk
Opening hours: Monday – Saturday, 9.00 am – 5.00 pm
Parents experiencing difficulty in acquiring the correct items should contact their child's Head of Year.