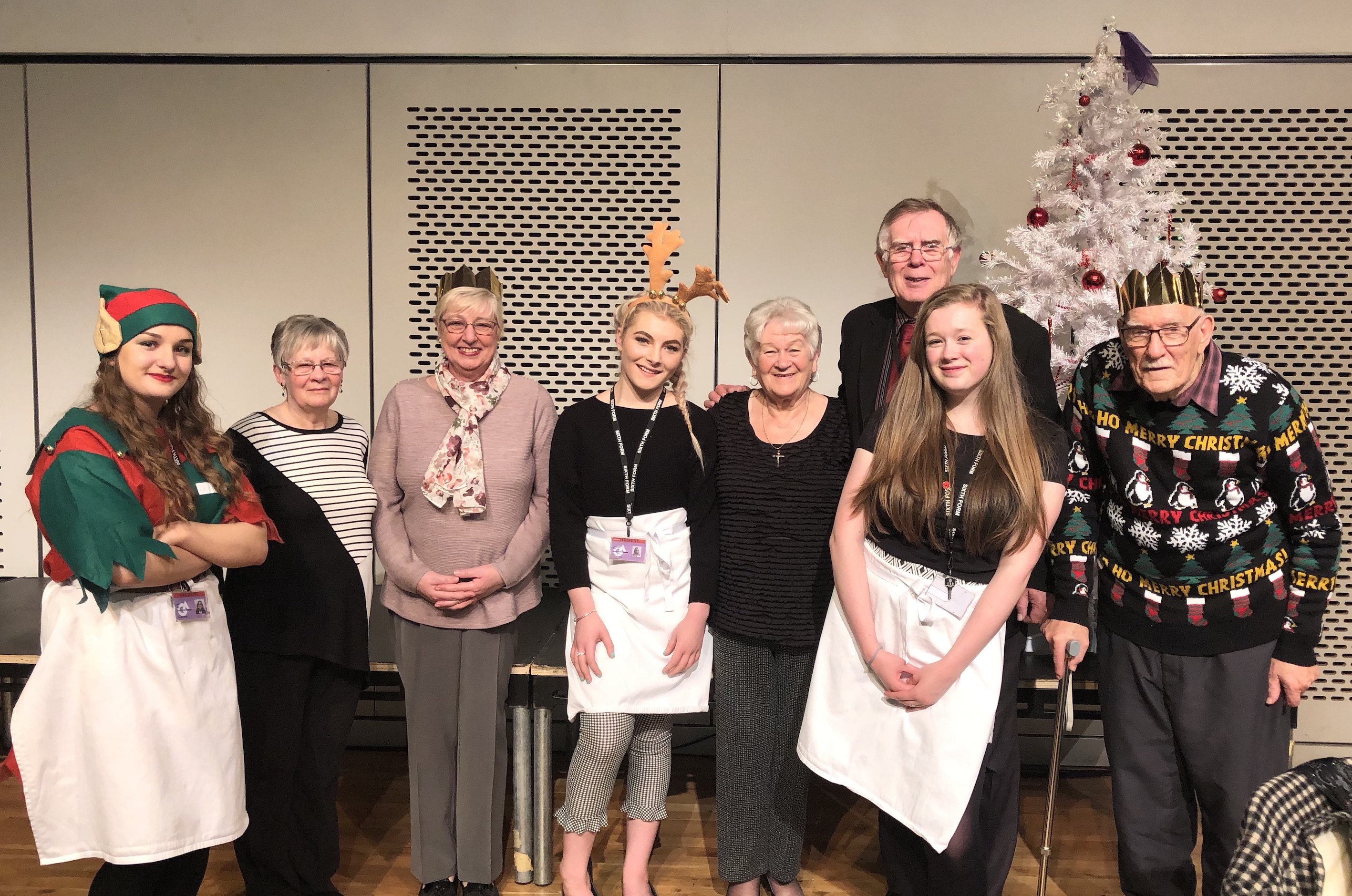 Post 16 Solihull students gave up a full day to make and serve a tasty Christmas dinner with all the trimmings for 90 senior citizens in Chelmsley Wood.
After peeling 270 sprouts, 60 carrots and over 300 potatoes, ten Year 12 students from Grace Academy Solihull entertained guests with festive choral songs and a generous serving of turkey, pigs in blankets and Christmas pudding.
Councillor Flo Nash and Councillor David Cole attended the community dinner to celebrate the Christmas season with local residents and Councillor Nash said:
"When schools invite the local community in at Christmas it is fantastic.  Christmas is all about remembering those less fortunate than ourselves.  Lots of elderly people live on their own and it's been lovely for people to get out for the day.  It's really nice to see so many faces I recognise at these events.
"I am encouraging the elderly in this area to get involved in local issues and anything that is going on in Fordbridge.  We recently organised a litter-picking initiative and we have had many elderly people get involved who really enjoyed meeting new people and building up relationships."
Year 12 student Charlie Tibbatts worked all day to create a great event for local people and commented:
"We prepared all the food, set up the hall, decorated the Christmas trees and have looked after all the beautiful guests.  We served hot drinks and had a Christmas sing song.  I cut my finger carving turkey, but it's all been worth it!  It's such a proud moment when you have done something good for other people at Christmas."
A former teacher at Grace Academy and one of the guests, Gail Bembridge, said:
"I taught here for ten years and it's as though I have never been away.  It's great to bring people together and I love the kids here and the staff.  Some people might not get the chance to get out for the day and Grace Academy pick people up to bring them along.  It's great for older people to talk to the younger people, it's like one big family. We have been utterly spoiled."
Councillor David Cole added:
"Celebrations like this break down barriers when the younger generation meet with the older generation.  Young people sometimes think that older people have everything but this is really a myth and it doesn't work that way.  There are many elderly people who are living on the bread line.  The best thing for me at Christmas is to see my grandchildren's faces on Christmas day, as well as celebrating with my father who is 91 and mother who is 87.  They like to see their great grandchildren too."
Darren Gelder, Principal of Grace Academy Solihull said:
"This is a real investment back into the local community, and a personal highlight of the year for me, welcoming our community in, and seeing people connect with old and new friends.  Our Post-16 students lead the celebrations and it's great to see what the younger ones are willing to do for the older generation.  This is a growing community event."